Naomi has developed a line of colored clay items which are intended for daily use as well as for gatherings and celebrations. The technique involves layering colored clay into a block. Patterns are created by pressing tools down into the block and then slicing it, or rolling out the layered colored clay, carving away strips and rolling it flat again to create a multi-dimensional effect. The flat clay is then hand-constructed into pieces that are tactile, useful and decorative. In addition, Naomi throws the layered colored clay on a wheel to form the pieces. She then facets the sides to reveal an agate effect or deeply carves the surface. This reveals mesmerizing striations of color that result in a great sense of depth and movement to the pieces.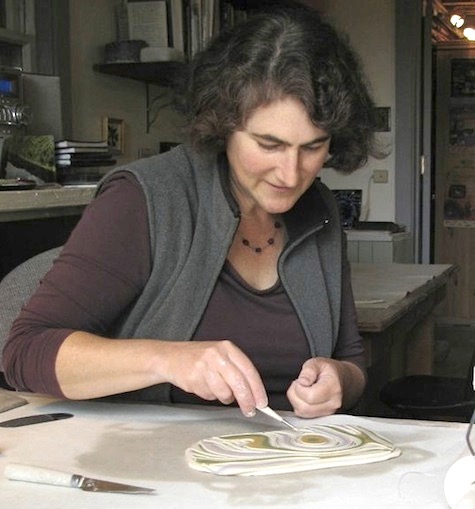 Flowing movement is the main feeling that Naomi hopes to convey in her work. Her inspiration is drawn from her love of dance, patterns in the natural world that result from the movement of water and wind on materials like rock, wood and shells. The colored clay technique allows one to work with colors while making a piece. Naomi loves to experiment with different color combinations to see how colors blend and contrast to create different moods.
Naomi took her first pottery class at the age of 12, continuing to work in clay in high school. She went on to earn a degree in ceramics from Boston University's Program in Artisanry, a program designed to prepare students to be professional craftspeople. During her time at B.U. Naomi observed another student who was experimenting with colored clay. Although it was still a few years before she got involved with this technique herself, she began to be intrigued.
After college she worked for several potters and eventually had the chance to do some of her own work, which is when her experimentation with colored clay began. Naomi is one of the founding members in 1983 of the Brattleboro Clayworks, a potter's collective. The combination of discovering the wonders of colored clay and forming the group studio helped her aspirations fall into place and connect the work with her heart.
Naomi has had the chance to share her enthusiasm of colored clay by teaching workshops at many craft institutes around New England, focusing on this technique. Since the fall of 1998 she is the ceramics teacher at The Putney School, a progressive boarding high school in Putney, Vt. with a strong arts program.
In the fall of 2004 after 21 years as a member of the Brattleboro Clayworks, Naomi took the big step of setting up and moving into her home studio in West Brattleboro. Visitors are welcome by appointment.